Fax Factory is a specialty coffee cafe in the lively, residential suburb of Pigneto in Rome. It is a unique blend of a specialty coffee cafe and art gallery where you'll find paintings and photographs from Roman artists on the walls while locals read books and sip their coffees.
Fax Factory cafe was opened in 2018 by Luca Palazzi and Gaia Aurora Olmedo after several years of experience in the Roman specialty coffee scene. They offer a selection of Italian and international specialty coffees as well as their own coffee blend, prepared in various brew methods.
From Termini central station, it's a fun ride on the old tram which drops you off 2-minutes walk from the doorstep of Fax Factory.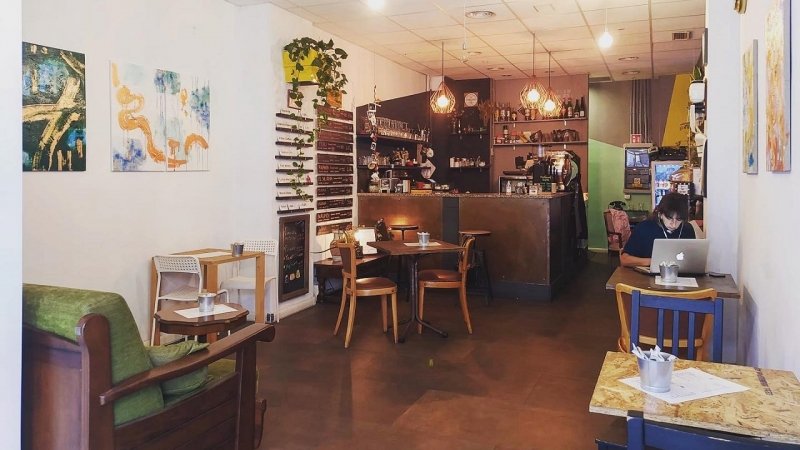 In-store brew methods
Espresso

?

The iconic Italian espresso method uses a machine to force near-boiling water at high pressure through finely ground coffee and a portafilter.
Espresso brewed coffee produces concentrated, rich flavours with crema on top.
Pour-over

?

The pour-over method uses a cone-shaped dripper with a paper filter. Near-boiling water is poured over medium-coarse ground coffee and passes through the paper filter. Different thicknesses of filter paper removes the coffee oils.
Pour-over brewed coffee produces a cleaner taste with less bitterness.
AeroPress

?

The AeroPress device functions like a syringe. Medium-coarse ground coffee is steeped in near-boiling water for a short period before the water is manually plunged through the coffee grounds and a thin paper filter.
AeroPress brewed coffee produces a smooth and clean flavour.
French press

?

The French press method uses a plunger with a fine mesh metal filter. Medium-coarse ground coffee is steeped in near-boiling water for several minutes. The plunger is pressed down to filter out fine particles when poured.
French press brewed coffee produces a strong and bold flavour.
Amenities
Buy specialty coffee in-store
Indoor seating
Address
Via Antonio Raimondi, 87,
00176 Rome (RM),
Lazio, Italy
Fax Factory in Rome
Want more cafes and roasters?