Urban Cafe is a specialty coffee cafe in the fortified, medieval town of Treviglio which is situated between Bergamo and Milan. They offer a wide selection of high quality Italian specialty coffee as well as catering for non-specialty drinkers as well.
The owner, Federico Pinna, is a competitive latte artist in the Italian scene, ranking highly in the Italian Latte Art Championship in 2020. He uses very high quality, locally sourced milk for their drinks, guaranteeing your specialty cappuccino will not only look beautiful but also taste great too.
Urban Cafe is a 5 minutes walk from Piazza Garibaldi in the heart of Treviglio, on the street connecting the main train station to the old town centre, making it an ideal stop to put down your luggage and enjoy a quality coffee.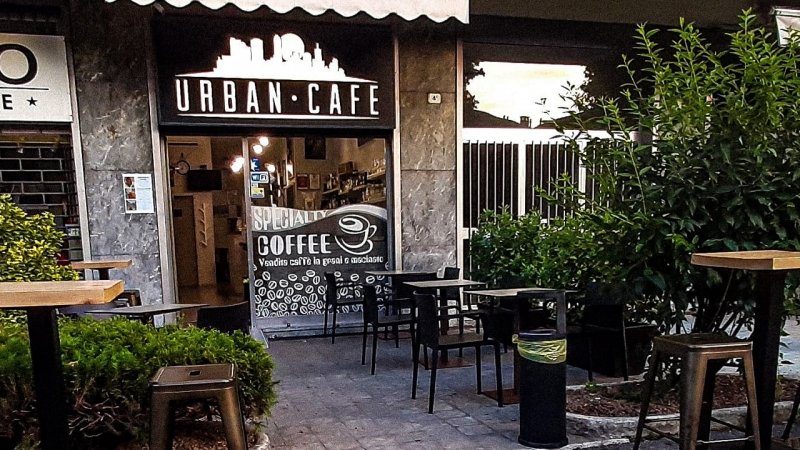 In-store brew methods
Espresso

?

The iconic Italian espresso method uses a machine to force near-boiling water at high pressure through finely ground coffee and a portafilter.
Espresso brewed coffee produces concentrated, rich flavours with crema on top.
Pour-over

?

The pour-over method uses a cone-shaped dripper with a paper filter. Near-boiling water is poured over medium-coarse ground coffee and passes through the paper filter. Different thicknesses of filter paper removes the coffee oils.
Pour-over brewed coffee produces a cleaner taste with less bitterness.
AeroPress

?

The AeroPress device functions like a syringe. Medium-coarse ground coffee is steeped in near-boiling water for a short period before the water is manually plunged through the coffee grounds and a thin paper filter.
AeroPress brewed coffee produces a smooth and clean flavour.
Moka pot

?

Moka pot method uses stove-top heat to boil water in the lower chamber that is forced through relatively fine-ground coffee into the upper chamber ready for serving.
Moka pot brewed coffee produces a stronger flavour often with more bitterness.
Amenities
Buy specialty coffee in-store
Outdoor seating
Indoor seating
Address
Viale Alcide de Gasperi, 4,
24047 Treviglio (BG),
Lombardy, Italy
Urban Cafe in Treviglio (Bergamo)
Want more cafes and roasters?