Checchi Cafè & Bakery is a specialty coffee cafe and gourmet bakery in the newer southern business area of Brescia known as Bresciadue, or "Brescia Two", south of the main train station. Checchi Cafè & Bakery stock a selection of Italian and international specialty coffee beans which owner Gabriele will happily grind by hand with his high quality grinder.
Styled with an Anglo-Saxon interior flare, Checchi Cafè & Bakery also follow the English tradition of gourmet food early in the day. Beyond specialty coffee, they offer breakfast and brunch, including pancakes, eggs and bacon, porridge, cakes, brownies, muffin and more. Best to call and reserve in advance as they're usually fully booked on the weekends for brunch.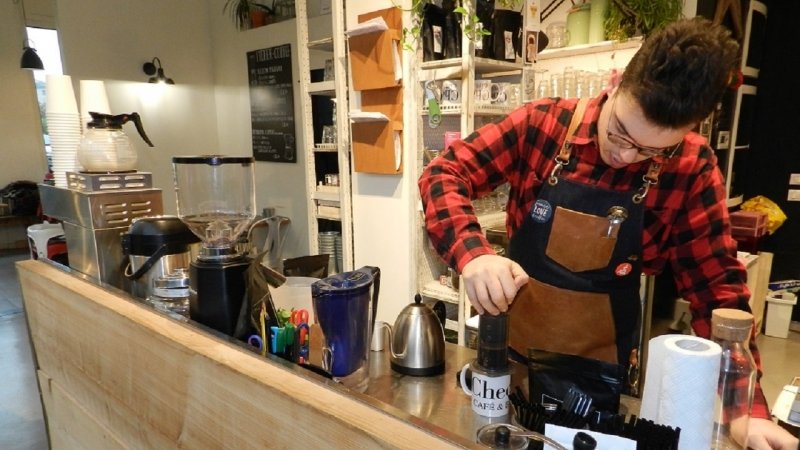 In-store brew methods
Espresso

?

The iconic Italian espresso method uses a machine to force near-boiling water at high pressure through finely ground coffee and a portafilter.
Espresso brewed coffee produces concentrated, rich flavours with crema on top.
Pour-over

?

The pour-over method uses a cone-shaped dripper with a paper filter. Near-boiling water is poured over medium-coarse ground coffee and passes through the paper filter. Different thicknesses of filter paper removes the coffee oils.
Pour-over brewed coffee produces a cleaner taste with less bitterness.
AeroPress

?

The AeroPress device functions like a syringe. Medium-coarse ground coffee is steeped in near-boiling water for a short period before the water is manually plunged through the coffee grounds and a thin paper filter.
AeroPress brewed coffee produces a smooth and clean flavour.
Amenities
Outdoor seating
Indoor seating
Address
Via Corsica, 225,
25125 Brescia (BS),
Lombardy, Italy
Checchi Cafè & Bakery in Brescia
Want more cafes and roasters?