Roaster in Monza and Brianza
His Majesty the Coffee is a specialty coffee roastery in Villasanta just north of Monza. Landing himself twice on the podium of the Italian Coffee Roasting Championship, Paolo Scimone is a veteran of the Italian specialty coffee scene. Having spent several years in London, his affinity for England and the Royal family grew, which he represents front and centre in the name of his roastery. You will find the mix of Paolo's Anglo-Italian passion duality in their specialty coffee house blends of Londinium and Modoetia.
His Majesty the Coffee has two royal roasting machine in their laboratory, being Elizabeth III the "Queen of the coffee Commonwealth" and Teodolinda II the "Queen of the Longobard Empire of Coffee", some of the most uniquely custom painted roasters in Italy.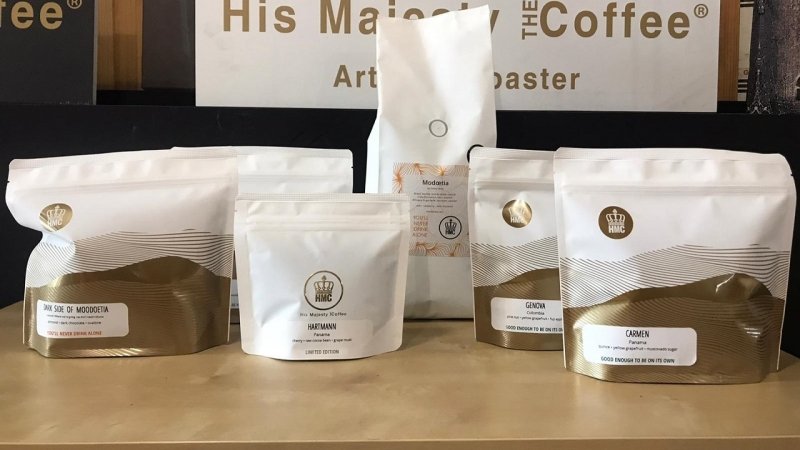 Amenities
Buy specialty coffee in-store
Roaster information
Coffee type: only sells specialty coffee
Business type: independent, owner-operated
Established: 2013
Selling specialty since: 2013
Roasting and origin information
Packaged coffee available: whole beans, ground
Roasting profile:
specific brew methods
?
A roasting profile for specific brew methods is when the roast is made specifically for espresso or for filter coffee. In general, a roasting profile for espresso is slightly darker than a roasting profile for filtered coffee.
A roasting profile for omni-roast is when a single roast is made for more than one brew method, such as for both espresso and filter coffee.
His Majesty the Coffee primarily has roasting profiles for specific brew methods.
Tasting notes:
brief tasting notes
?
Tasting notes are a flavour guide provided by the roaster that describe the taste of the roasted coffee when brewed.
Some roasters provide descriptive tasting notes, many provide brief tasting notes such as a list of similar flavours whereas others do not provide any tasting notes.
His Majesty the Coffee tends to provide brief tasting notes.
Coffee estate:
descriptive information
?
Coffee estate information is a description of the location where the green coffee beans were cultivated and the families involved.
Some roasters include detailed information of the estate, many include brief information whereas other roasters include minimal or no information.
His Majesty the Coffee tends to include descriptive information about the coffee estate.
Cupping score:
not usually provided
?
A cupping score is a quality rating determined by assessing the characteristics of the coffee. Sensory attributes such as the coffee's aroma, flavour, sweetness, acidity, body, and more, are used to determine the score. A cupping score from 80 to 100 is considered specialty coffee.
A few roasters include the cupping score for all of their coffees, others include it for some of their coffees whereas many roasters do not include a cupping score.
His Majesty the Coffee tends not to include cupping scores.
Address
Via Benvenuto Cellini, 17,
20852 Villasanta (MB),
Lombardy, Italy
His Majesty the Coffee in Villasanta (Monza and Brianza)
Want more cafes and roasters?