Docg Coffee is a specialty coffee cafes in Turin. Owner, operator and barista Simone Rossi opened it in 2016 after accumulating over 20 years of experience in the cafe sector. Docg Coffee offers a wide range of Italian and international specialty coffee beans for coffee lovers, all carefully prepared using a number of different brew methods. There are roasted specialty beans and equipment available to buy in-store to take home and prepare yourself.
Docg Coffee offers a selection of traditional Italian pastries, sweets and cakes making it a good stop over to start your exploration of the majestic city. You'll find Docg just over a 5-minute walk from Porta Nuova train station in Turin.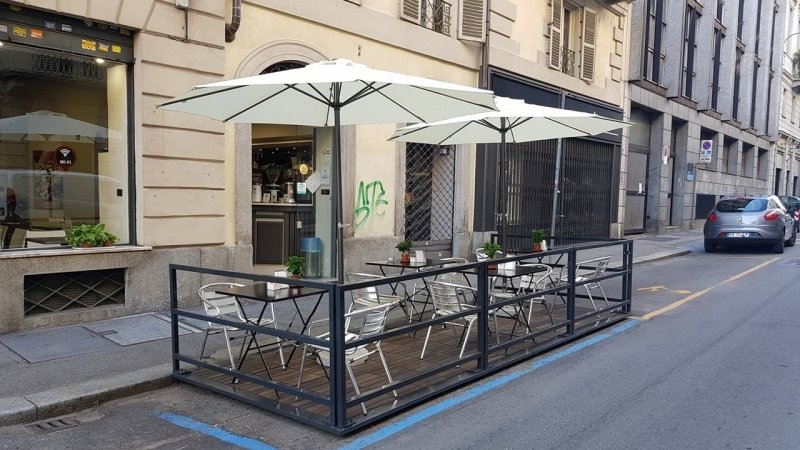 In-store brew methods
Espresso

?

The iconic Italian espresso method uses a machine to force near-boiling water at high pressure through finely ground coffee and a portafilter.
Espresso brewed coffee produces concentrated, rich flavours with crema on top.
Pour-over

?

The pour-over method uses a cone-shaped dripper with a paper filter. Near-boiling water is poured over medium-coarse ground coffee and passes through the paper filter. Different thicknesses of filter paper removes the coffee oils.
Pour-over brewed coffee produces a cleaner taste with less bitterness.
AeroPress

?

The AeroPress device functions like a syringe. Medium-coarse ground coffee is steeped in near-boiling water for a short period before the water is manually plunged through the coffee grounds and a thin paper filter.
AeroPress brewed coffee produces a smooth and clean flavour.
French press

?

The French press method uses a plunger with a fine mesh metal filter. Medium-coarse ground coffee is steeped in near-boiling water for several minutes. The plunger is pressed down to filter out fine particles when poured.
French press brewed coffee produces a strong and bold flavour.
Syphon pot

?

The syphon pot method uses a two-chambered glass device, vapor pressure to brew as well as a metal filter. Medium-coarse coffee is used.
Syphon pot brewed coffee produces full-bodied and heavier flavours.
Amenities
Buy specialty coffee in-store
Buy coffee equipment in-store
Outdoor seating
Indoor seating
Address
Via San Francesco da Paola, 29F,
10123 Turin (TO),
Piedmont, Italy
Docg Coffee in Turin
Want more cafes and roasters?