La Hacienda is a specialty coffee cafe located in Turin, a picturesque baroque city sitting below the Italian Alpes. Inspired by her first taste of a Geisha variety coffee in her home country of Colombia, Leidy arrived in the city and later opened her cafe. La Hacienda is a cosy specialty coffee cafe with a South American flare, serving Italian specialty coffee from all over the country.
It is located next to Torino Porta Nuova, the main train station of Turin, just a 5-minute walk after your arrival in the city.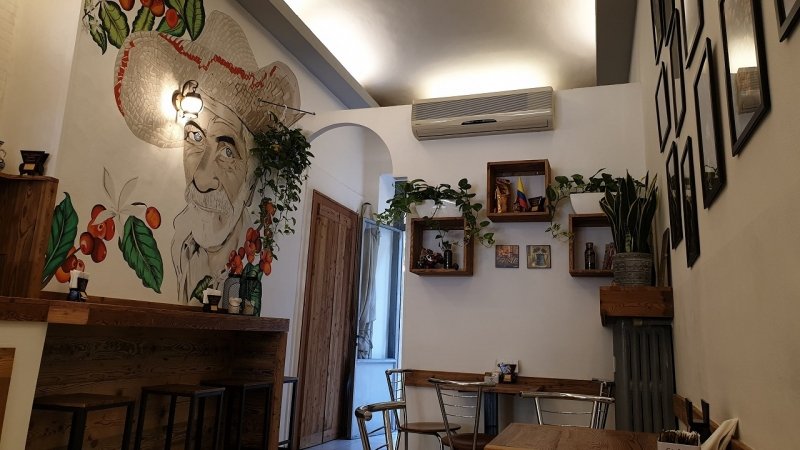 In-store brew methods
Espresso

?

The iconic Italian espresso method uses a machine to force near-boiling water at high pressure through finely ground coffee and a portafilter.
Espresso brewed coffee produces concentrated, rich flavours with crema on top.
Pour-over

?

The pour-over method uses a cone-shaped dripper with a paper filter. Near-boiling water is poured over medium-coarse ground coffee and passes through the paper filter. Different thicknesses of filter paper removes the coffee oils.
Pour-over brewed coffee produces a cleaner taste with less bitterness.
French press

?

The French press method uses a plunger with a fine mesh metal filter. Medium-coarse ground coffee is steeped in near-boiling water for several minutes. The plunger is pressed down to filter out fine particles when poured.
French press brewed coffee produces a strong and bold flavour.
Syphon pot

?

The syphon pot method uses a two-chambered glass device, vapor pressure to brew as well as a metal filter. Medium-coarse coffee is used.
Syphon pot brewed coffee produces full-bodied and heavier flavours.
Address
Via San Secondo, 17,
10128 Turin (TO),
Piedmont, Italy
La Hacienda

in Turin

Specialty Coffee Italy map is loading..
Want more cafes and roasters?