Roaster & cafe in Cagliari
Caffè dell'Arte Specialty Coffee is a specialty coffee cafe and roastery in the port city of Cagliari on the island of Sardinia. This unique coffee spot has art at its roots, with the family having been heavily involved in promoting local Italian artists inside the cafe and at events since the 1980's.
Andrea Pettinari has been serving specialty coffee in the cafe since 2016 and also began to roast his own coffee at the end of 2020, with the roastery located on the first floor of the cafe. Along with his partner Federica, they added their intrepreation of art in this historical cafe by hanging their own paintings on the walls and putting their unique designs on the coffee packaging. Each of Andrea's roasted specialty coffee lines is inspired and named after an artistic movement, such as Futurismo, Art Deca and Impressionismo. The background music in the cafe is from their record player, spinning tunes from their large collection of vinyl.
Caffè dell'Arte Specialty Coffee is located just over a 5-minute walk from the main Caglari train station near the port.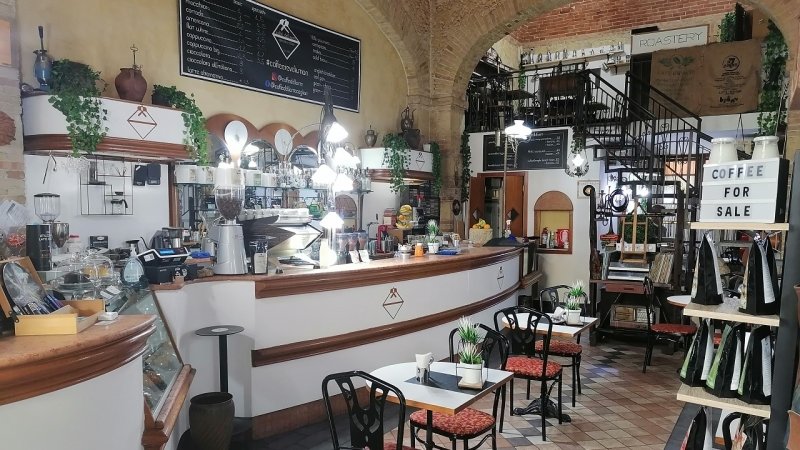 In-store brew methods
Espresso

?

The iconic Italian espresso method uses a machine to force near-boiling water at high pressure through finely ground coffee and a portafilter.
Espresso brewed coffee produces concentrated, rich flavours with crema on top.
Pour-over

?

The pour-over method uses a cone-shaped dripper with a paper filter. Near-boiling water is poured over medium-coarse ground coffee and passes through the paper filter. Different thicknesses of filter paper removes the coffee oils.
Pour-over brewed coffee produces a cleaner taste with less bitterness.
AeroPress

?

The AeroPress device functions like a syringe. Medium-coarse ground coffee is steeped in near-boiling water for a short period before the water is manually plunged through the coffee grounds and a thin paper filter.
AeroPress brewed coffee produces a smooth and clean flavour.
Moka pot

?

Moka pot method uses stove-top heat to boil water in the lower chamber that is forced through relatively fine-ground coffee into the upper chamber ready for serving.
Moka pot brewed coffee produces a stronger flavour often with more bitterness.
Cold brew

?

The cold brew method involves steeping coarse-ground coffee in cool water for 12-hours or more. The brewed coffee is filtered and water is added before serving.
Cold brewed coffee produces a flavour with less bitterness and acidity.
French press

?

The French press method uses a plunger with a fine mesh metal filter. Medium-coarse ground coffee is steeped in near-boiling water for several minutes. The plunger is pressed down to filter out fine particles when poured.
French press brewed coffee produces a strong and bold flavour.
Amenities
Buy specialty coffee in-store
Buy coffee equipment in-store
Indoor seating
Address
Via Caprera, 3,
09123 Cagliari (CA),
Sardinia, Italy
Caffè dell'Arte Specialty Coffee in Cagliari
Want more cafes and roasters?