Roaster & cafe in Catania
Etna Roaster is a specialty coffee micro roastery and cafe located on the slopes of the active Etna volcano in Zafferana Etnea, Sicily. Depending on when you visit, you might find black volcanic ash covering the roads, snow topping the upper areas of Etna volcano or, on a clear day, a scenic view over the sea. Etna Roaster has one of the most dramatic surroundings for drinking a specialty coffee in Italy.
Inside Etna Roaster cafe you will find Sergio Barbagallo roasting his specialty coffee beans in the backroom on his small batch roasting machine or in the front of this cosy locale serving his freshly ground beans for you to drink.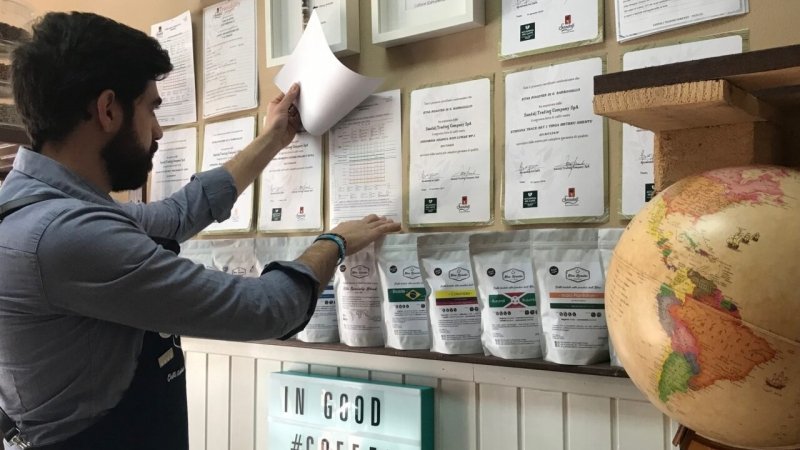 In-store brew methods
Espresso

?

The iconic Italian espresso method uses a machine to force near-boiling water at high pressure through finely ground coffee and a portafilter.
Espresso brewed coffee produces concentrated, rich flavours with crema on top.
Pour-over

?

The pour-over method uses a cone-shaped dripper with a paper filter. Near-boiling water is poured over medium-coarse ground coffee and passes through the paper filter. Different thicknesses of filter paper removes the coffee oils.
Pour-over brewed coffee produces a cleaner taste with less bitterness.
Amenities
Buy specialty coffee in-store
Buy coffee equipment in-store
Indoor seating
Roaster information
Coffee type: sells specialty and non-specialty coffee
Business type: independent, owner-operated
Established: 2016
Selling specialty since: 2016
Roasting and origin information
Packaged coffee available: whole beans
Roasting profile:
omni-roast
?
A roasting profile for specific brew methods is when the roast is made specifically for espresso or for filter coffee. In general, a roasting profile for espresso is slightly darker than a roasting profile for filtered coffee.
A roasting profile for omni-roast is when a single roast is made for more than one brew method, such as for both espresso and filter coffee.
Etna Roaster primarily roasts an omni-roast profile.
Tasting notes:
brief tasting notes
?
Tasting notes are a flavour guide provided by the roaster that describe the taste of the roasted coffee when brewed.
Some roasters provide descriptive tasting notes, many provide brief tasting notes such as a list of similar flavours whereas others do not provide any tasting notes.
Etna Roaster tends to provide brief tasting notes.
Coffee estate:
brief description
?
Coffee estate information is a description of the location where the green coffee beans were cultivated and the families involved.
Some roasters include detailed information of the estate, many include brief information whereas other roasters include minimal or no information.
Etna Roaster tends to include brief information about the coffee estate.
Cupping score:
not usually provided
?
A cupping score is a quality rating determined by assessing the characteristics of the coffee. Sensory attributes such as the coffee's aroma, flavour, sweetness, acidity, body, and more, are used to determine the score. A cupping score from 80 to 100 is considered specialty coffee.
A few roasters include the cupping score for all of their coffees, others include it for some of their coffees whereas many roasters do not include a cupping score.
Etna Roaster tends not to include cupping scores.
Address
Via Giuseppe Garibaldi, 367,
95019 Zafferana Etnea (CT),
Sicily, Italy
Etna Roaster in Zafferana Etnea (Catania)
Want more cafes and roasters?