Bar Vabres is a historical corner cafe, rotisserie and patisserie founded in 1969 near the centre of Palermo. Three generations in, each family member runs a different activity within the cafe with Alessio Vabres bringing his passion for specialty brewing and coffee art. In-store you can drink their specialty coffee in a variety of brew methods in this traditionally-styled locale.
Bar Vabres is famous for its Sicilian rotisserie, especially their arancine as well as their traditional pastries like their Italian cornetti and Sicilian brioches. You can find it just over a 5-minute walk from Palermo Centrale, the city's main train station south of the old centre.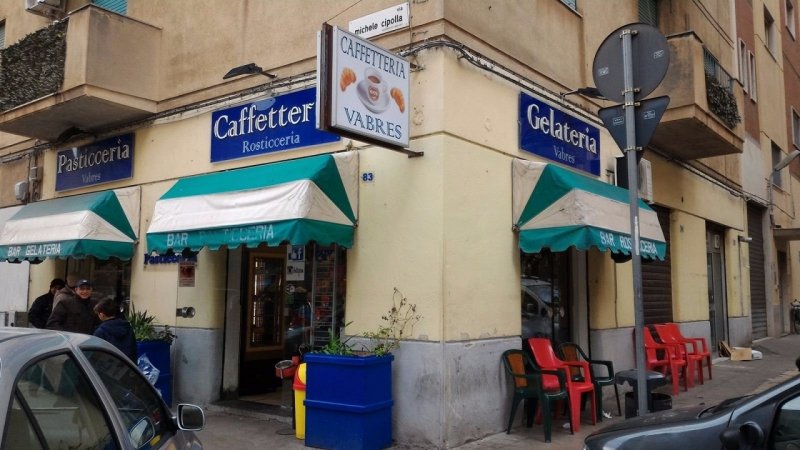 In-store brew methods
Espresso

?

The iconic Italian espresso method uses a machine to force near-boiling water at high pressure through finely ground coffee and a portafilter.
Espresso brewed coffee produces concentrated, rich flavours with crema on top.
Pour-over

?

The pour-over method uses a cone-shaped dripper with a paper filter. Near-boiling water is poured over medium-coarse ground coffee and passes through the paper filter. Different thicknesses of filter paper removes the coffee oils.
Pour-over brewed coffee produces a cleaner taste with less bitterness.
AeroPress

?

The AeroPress device functions like a syringe. Medium-coarse ground coffee is steeped in near-boiling water for a short period before the water is manually plunged through the coffee grounds and a thin paper filter.
AeroPress brewed coffee produces a smooth and clean flavour.
Amenities
Buy specialty coffee in-store
Outdoor seating
Indoor seating
Address
Via Michele Cipolla, 85,
90123 Palermo (PA),
Sicily, Italy
Bar Vabres in Palermo
Want more cafes and roasters?