Kuro is a specialty coffee cafe in Foligno, in the heart of the landlocked central region of Umbria. It is the realisation of a 15-year long dream of Chiara Tomassini, who had always wanted to open her own cafe to introduce high quality specialty coffee to the people of Umbria.
Meaning "black" in Japanese, Kuro is a uniquely designed cafe and a reflection of Chiara's artistic origins and personality, inspired by origami and the minimalist Bauhaus style. The cafe's logo is a crow, as a symbol of consciousness, metamorphosis and protection and shows her fascination with the Asian culture and mythology.
In-house you'll find a wide, rotating selection of some of Italy's top specialty coffee roasters on sale and a brew menu that caters for everyone's tastes. As it gets hot in Folign during the warmer months, Chiara has come up with a long menu of creative, cold specialty coffee beverages that are sure to keep you cool and refreshed.
Just under a 10-minute walk from the Foligno train station, Kuro is a perfect break for those waiting to catch a connecting train or for those visiting the city.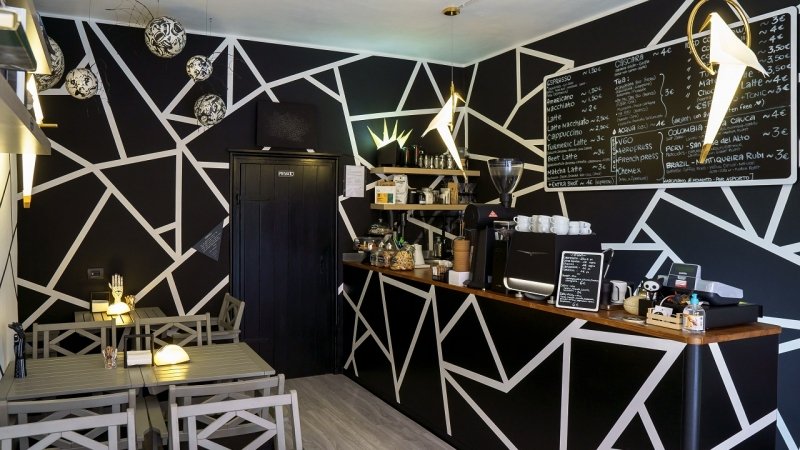 In-store brew methods
Espresso

?

The iconic Italian espresso method uses a machine to force near-boiling water at high pressure through finely ground coffee and a portafilter.
Espresso brewed coffee produces concentrated, rich flavours with crema on top.
Pour-over

?

The pour-over method uses a cone-shaped dripper with a paper filter. Near-boiling water is poured over medium-coarse ground coffee and passes through the paper filter. Different thicknesses of filter paper removes the coffee oils.
Pour-over brewed coffee produces a cleaner taste with less bitterness.
AeroPress

?

The AeroPress device functions like a syringe. Medium-coarse ground coffee is steeped in near-boiling water for a short period before the water is manually plunged through the coffee grounds and a thin paper filter.
AeroPress brewed coffee produces a smooth and clean flavour.
Cold brew

?

The cold brew method involves steeping coarse-ground coffee in cool water for 12-hours or more. The brewed coffee is filtered and water is added before serving.
Cold brewed coffee produces a flavour with less bitterness and acidity.
French press

?

The French press method uses a plunger with a fine mesh metal filter. Medium-coarse ground coffee is steeped in near-boiling water for several minutes. The plunger is pressed down to filter out fine particles when poured.
French press brewed coffee produces a strong and bold flavour.
Amenities
Buy specialty coffee in-store
Buy coffee equipment in-store
Indoor seating
Address
Via Garibaldi, 72,
06034 Foligno (PG),
Umbria, Italy
Kuro in Foligno (Perugia)
Want more cafes and roasters?