Garage Coffee Bros Flagship Store is a modern, cosy specialty coffee cafe in Verona near the Adige river. Opened in the middle of 2022, the flagship store is the first coffee shop from the Cobelli brothers, Davide and Andrea.
Inside the store you will find a full selection of their own Garage Coffee Bros beans from their head roaster Davide Cobelli, the Italian Coffee Roasting Champion of 2020. On a monthly basis they rotate their selection of in-house coffees that they brew, offering a house blend, a few different single origins for espressos and filter coffee as well as their Cold Brrr Blend that they use for the cold brew during the warmer months of the year. They have also made available a wide range of coffee equipment you can buy for your home brewing needs.
The Garage Coffee Bros Flagship Store is just over a 5-minute walk from the Verona Arena, heading towards Castelvecchio on river bend.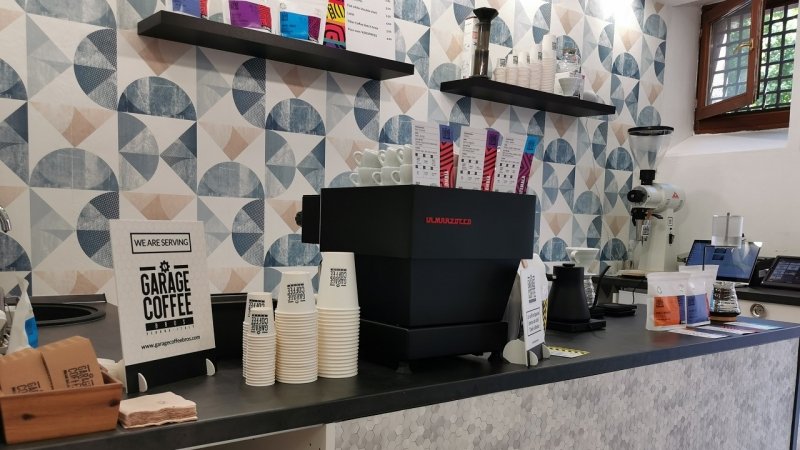 In-store brew methods
Espresso

?

The iconic Italian espresso method uses a machine to force near-boiling water at high pressure through finely ground coffee and a portafilter.
Espresso brewed coffee produces concentrated, rich flavours with crema on top.
Pour-over

?

The pour-over method uses a cone-shaped dripper with a paper filter. Near-boiling water is poured over medium-coarse ground coffee and passes through the paper filter. Different thicknesses of filter paper removes the coffee oils.
Pour-over brewed coffee produces a cleaner taste with less bitterness.
AeroPress

?

The AeroPress device functions like a syringe. Medium-coarse ground coffee is steeped in near-boiling water for a short period before the water is manually plunged through the coffee grounds and a thin paper filter.
AeroPress brewed coffee produces a smooth and clean flavour.
Cold brew

?

The cold brew method involves steeping coarse-ground coffee in cool water for 12-hours or more. The brewed coffee is filtered and water is added before serving.
Cold brewed coffee produces a flavour with less bitterness and acidity.
Amenities
Buy specialty coffee in-store
Buy coffee equipment in-store
Indoor seating
Address
Vicolo San Silvestro, 29,
37122 Verona (VR),
Veneto, Italy
Garage Coffee Bros Flagship Store in Verona
Want more cafes and roasters?