Cafe in Barletta-Andria-Trani
Code Cafè is a specialty coffee cafe in the picturesque port side city of Trani. This busy spot is a favourite amongst locals who get to enjoy a quality coffee from the Pugliese roaster Pierre Cafè. For their specialty coffees they use Son of Coffee and offer a vast selection of brew methods.
Talk to owner Vincenzo Fortugno and you'll quickly realise he's a true specialty coffee lover and takes into account the smallest details when preparing your coffee. Working along with his wife Diana, they also offer a selection of cold coffees which are perfect for the hot summer months. Try their Trani-style caffè freddo (coffee granite with espresso), caffè leccese, cold brew or shakerato. Grab your coffee and sit outside at a table under the trees located in the square in front of the cafe.
Code Cafè is situated on Piazza della Repubblica, just a 5-minute walk from the old port waterfront.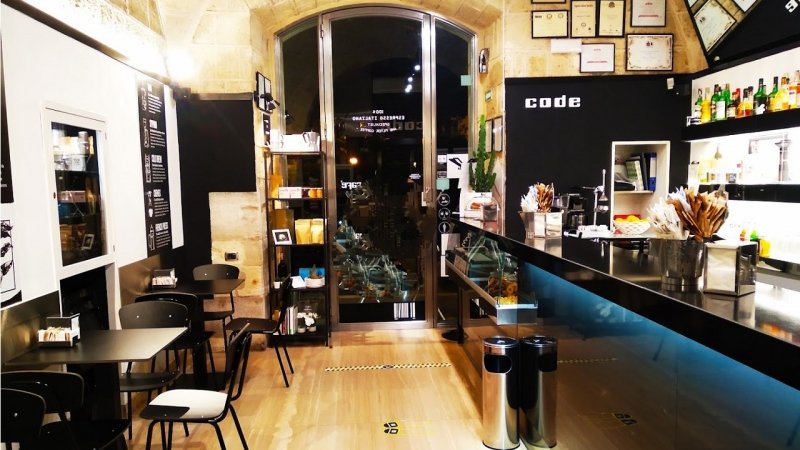 Updated 26 September, 2021
In-store brew methods
Espresso

?

The iconic Italian espresso method uses a machine to force near-boiling water at high pressure through finely ground coffee and a portafilter.
Espresso brewed coffee produces concentrated, rich flavours with crema on top.
Pour-over

?

The pour-over method uses a cone-shaped dripper with a paper filter. Near-boiling water is poured over medium-coarse ground coffee and passes through the paper filter. Different thicknesses of filter paper removes the coffee oils.
Pour-over brewed coffee produces a cleaner taste with less bitterness.
AeroPress

?

The AeroPress device functions like a syringe. Medium-coarse ground coffee is steeped in near-boiling water for a short period before the water is manually plunged through the coffee grounds and a thin paper filter.
AeroPress brewed coffee produces a smooth and clean flavour.
Moka pot

?

Moka pot method uses stove-top heat to boil water in the lower chamber that is forced through relatively fine-ground coffee into the upper chamber ready for serving.
Moka pot brewed coffee produces a stronger flavour often with more bitterness.
Cold brew

?

The cold brew method involves steeping coarse-ground coffee in cool water for 12-hours or more. The brewed coffee is filtered and water is added before serving.
Cold brewed coffee produces a flavour with less bitterness and acidity.
French press

?

The French press method uses a plunger with a fine mesh metal filter. Medium-coarse ground coffee is steeped in near-boiling water for several minutes. The plunger is pressed down to filter out fine particles when poured.
French press brewed coffee produces a strong and bold flavour.
Turkish coffee

?

Turkish coffee uses extremely fine-ground coffee heated with water in a vessel called a ibrik or cezve. The coffee is boiled several times before being served without filtering.
Turkish coffee produces a very thick, bold flavour with coffee sediment in the cup.
Syphon pot

?

The syphon pot method uses a two-chambered glass device, vapor pressure to brew as well as a metal filter. Medium-coarse coffee is used.
Syphon pot brewed coffee produces full-bodied and heavier flavours.
Amenities
Buy specialty coffee in-store
Outdoor seating
Indoor seating
Address
Piazza della Repubblica, 25,
76125 Trani (BT),
Apulia, Italy
Code Cafè in Trani (Barletta-Andria-Trani)
Want more cafes and roasters?