Aroma is a specialty coffee cafe in the heart of Bologna with classic, elegant style and service. It is more than just a cafe, it is an institution, and one of the first specialty coffee spots in Italy. They serve a carefully selected menu of quality Italian specialty coffees as well as offering pastries, cakes and gourmet foods.
Owners Alessandro Galtieri and his wife Cristina Caroli opened Aroma as a traditional Italian bar in 1994 before devoting themselves to the exploration of quality coffee in 2001. Alessandro knows a thing or two about brewing coffee, being crowned the Italian Brewers Cup champion in 2018 and 2019 and coming in third at the World Brewers Cup in 2019. He has penned several books on brewing coffee as well as writing educational modules which are used as part of the international coffee training curriculum.
Aroma is a 10-minute walk west of the famous Two Towers, or just 5-minutes from Via del Pratello, a popular night area in Bologna.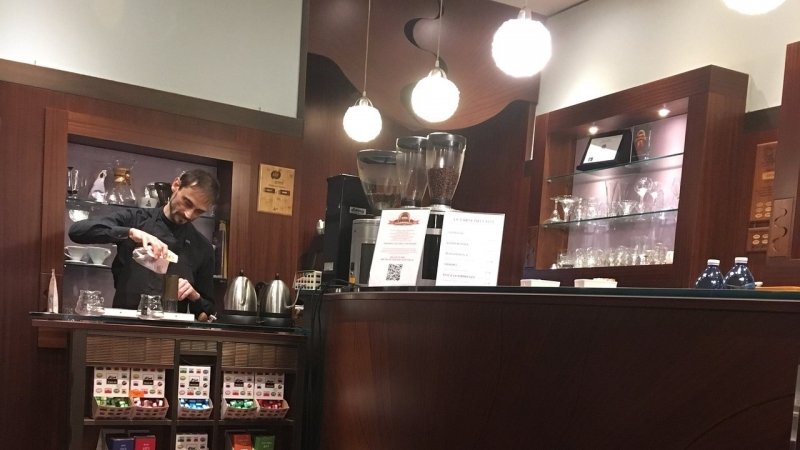 Updated 13 November, 2021
In-store brew methods
Espresso

?

The iconic Italian espresso method uses a machine to force near-boiling water at high pressure through finely ground coffee and a portafilter.
Espresso brewed coffee produces concentrated, rich flavours with crema on top.
Pour-over

?

The pour-over method uses a cone-shaped dripper with a paper filter. Near-boiling water is poured over medium-coarse ground coffee and passes through the paper filter. Different thicknesses of filter paper removes the coffee oils.
Pour-over brewed coffee produces a cleaner taste with less bitterness.
AeroPress

?

The AeroPress device functions like a syringe. Medium-coarse ground coffee is steeped in near-boiling water for a short period before the water is manually plunged through the coffee grounds and a thin paper filter.
AeroPress brewed coffee produces a smooth and clean flavour.
Moka pot

?

Moka pot method uses stove-top heat to boil water in the lower chamber that is forced through relatively fine-ground coffee into the upper chamber ready for serving.
Moka pot brewed coffee produces a stronger flavour often with more bitterness.
Amenities
Buy specialty coffee in-store
Buy coffee equipment in-store
Outdoor seating
Indoor seating
Address
Via Porta Nova, 12/B,
40123 Bologna (BO),
Emilia-Romagna, Italy
Aroma in Bologna
Want more cafes and roasters?