Caos Caffè is an Italian-style cafe in the city of Aprilia, south of Rome. You will find the cafe full of locals sipping their cappuccinos in the morning, eating panini in the afternoon and enjoying their aperitivo sitting outside in the early evenings.
While mostly catering for a traditional Italian coffee drinker, Caos Caffè also stock a full range of Tomassi Coffee specialty and non-specialty beans, roasted by the owner and head roaster Emanuele Tomassi. You can pick up packets of the latest, freshly roasted specialty coffee or drink a coffee in the cafe, prepared in a range of different brew methods.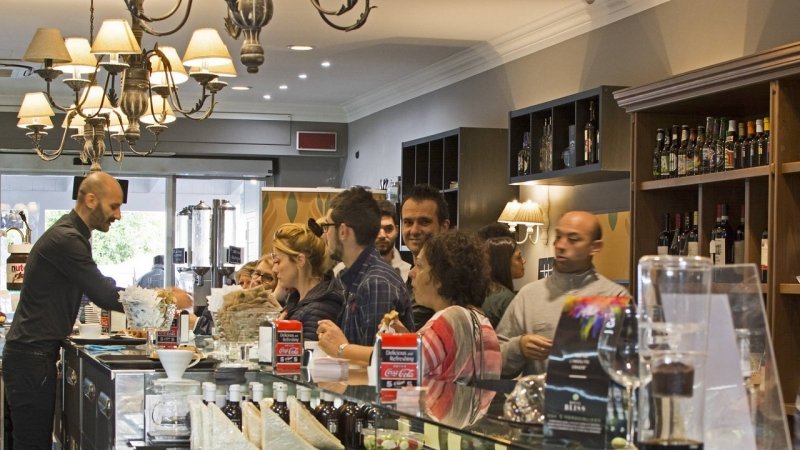 In-store brew methods
Espresso

?

The iconic Italian espresso method uses a machine to force near-boiling water at high pressure through finely ground coffee and a portafilter.
Espresso brewed coffee produces concentrated, rich flavours with crema on top.
Pour-over

?

The pour-over method uses a cone-shaped dripper with a paper filter. Near-boiling water is poured over medium-coarse ground coffee and passes through the paper filter. Different thicknesses of filter paper removes the coffee oils.
Pour-over brewed coffee produces a cleaner taste with less bitterness.
Amenities
Buy specialty coffee in-store
Buy coffee equipment in-store
Outdoor seating
Indoor seating
Address
Via Giuseppe Verdi, 24,
04011 Aprilia (LT),
Latina, Italy
Caos Caffè in Aprilia (Latina)
Want more cafes and roasters?