Faro is a specialty coffee cafe and gourmet bistrot near the centre of Rome which has been serving locals and international visitors alike since 2016. They serve the full range of their own roasted specialty coffee beans under the name Aliena Coffee Roasters. Beyond specialty coffee, Faro also has a gourmet selection of homemade pastries, desserts and an international brunch and food menu.
Owner Dario Fociani spent time working in cafes in Melbourne, London and passed a few years working at The Barn in Berlin. Returning to his home city with international specialty coffee knowledge under his belt, Dario opened Faro cafe in Rome, styled on his world travels and experiences.
Faro is located just inside the ancient Aurelian wall, a 15-minute walk from Rome's central train station Termini.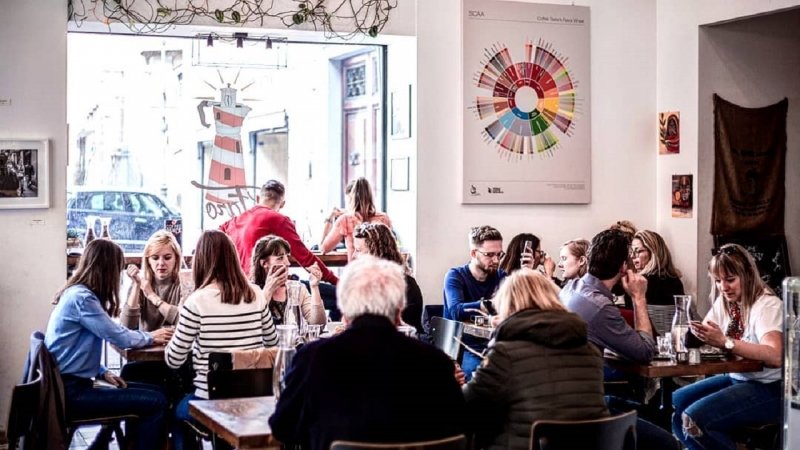 In-store brew methods
Espresso

?

The iconic Italian espresso method uses a machine to force near-boiling water at high pressure through finely ground coffee and a portafilter.
Espresso brewed coffee produces concentrated, rich flavours with crema on top.
Pour-over

?

The pour-over method uses a cone-shaped dripper with a paper filter. Near-boiling water is poured over medium-coarse ground coffee and passes through the paper filter. Different thicknesses of filter paper removes the coffee oils.
Pour-over brewed coffee produces a cleaner taste with less bitterness.
Cold brew

?

The cold brew method involves steeping coarse-ground coffee in cool water for 12-hours or more. The brewed coffee is filtered and water is added before serving.
Cold brewed coffee produces a flavour with less bitterness and acidity.
Amenities
Buy specialty coffee in-store
Buy coffee equipment in-store
Indoor seating
Address
Via Piave, 55,
00187 Rome (RM),
Lazio, Italy
Faro in Rome
Want more cafes and roasters?