Tram Depot in the outer Roman suburb of Talenti is an outdoor kiosk which brews and sells a small selection of Italian specialty coffee. They serves everything from breakfast until the evening aperitivo, with specialty coffee always available. This restored and retro painted tram carriage is a little refuge from the residential surroundings.
Not to be confused with the more centrally located Tram Depot in Testaccio, this Tram Depot in located in the north-eastern suburbs of Rome, so you'll likely need to catch the metro and bus or a taxi to get there.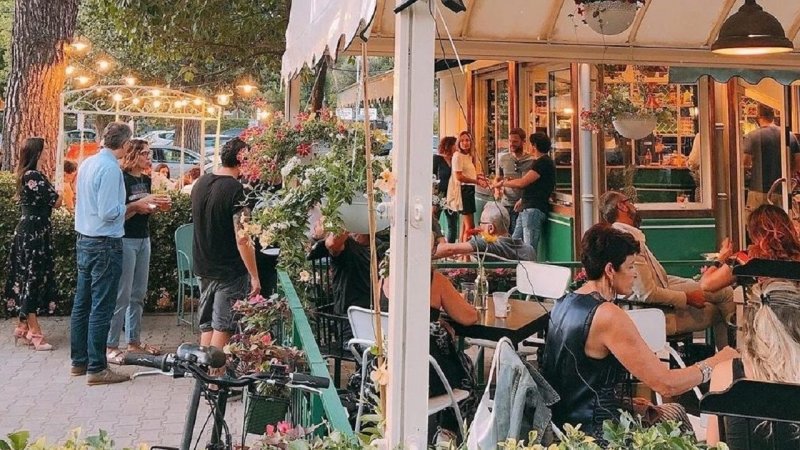 In-store brew methods
Espresso

?

The iconic Italian espresso method uses a machine to force near-boiling water at high pressure through finely ground coffee and a portafilter.
Espresso brewed coffee produces concentrated, rich flavours with crema on top.
Pour-over

?

The pour-over method uses a cone-shaped dripper with a paper filter. Near-boiling water is poured over medium-coarse ground coffee and passes through the paper filter. Different thicknesses of filter paper removes the coffee oils.
Pour-over brewed coffee produces a cleaner taste with less bitterness.
French press

?

The French press method uses a plunger with a fine mesh metal filter. Medium-coarse ground coffee is steeped in near-boiling water for several minutes. The plunger is pressed down to filter out fine particles when poured.
French press brewed coffee produces a strong and bold flavour.
Syphon pot

?

The syphon pot method uses a two-chambered glass device, vapor pressure to brew as well as a metal filter. Medium-coarse coffee is used.
Syphon pot brewed coffee produces full-bodied and heavier flavours.
Amenities
Buy specialty coffee in-store
Outdoor seating
Address
Via Corrado Alvaro, 37,
00137 Rome (RM),
Lazio, Italy
Tram Depot (Talenti) in Rome
Want more cafes and roasters?