Tram Depot in Testaccio, Rome, is an outdoor kiosk which brews and sells a selection of Italian specialty coffee. It is a refuge from the passing cars on Via Marmorata, located under the trees on the corner of Park Resistenza dell'VIII Settembre in this lively yet residential suburb. Tram Depot offers traditional Italian breakfasts with specialty coffee as well as aperitivo and cocktails in the evenings.
The kiosk itself is a well restored and retro painted tram carriage, a piece of heritage from times past. Tram Depot is a little over a 5-minute walk from the Piramide metro station (train station Ostiense).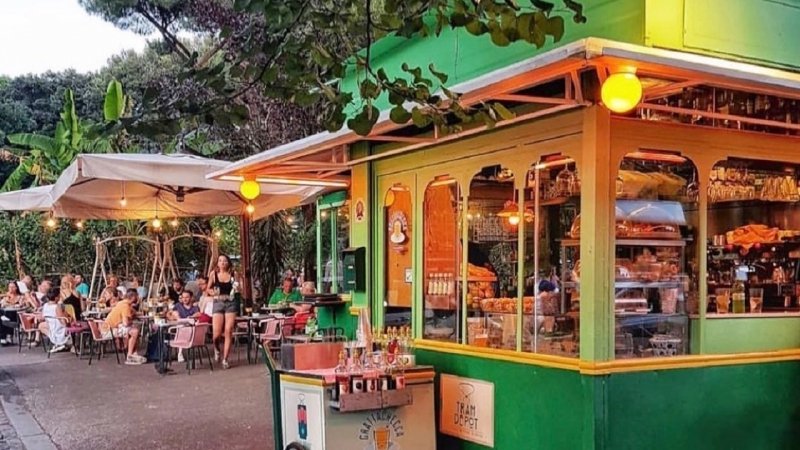 In-store brew methods
Espresso

?

The iconic Italian espresso method uses a machine to force near-boiling water at high pressure through finely ground coffee and a portafilter.
Espresso brewed coffee produces concentrated, rich flavours with crema on top.
Pour-over

?

The pour-over method uses a cone-shaped dripper with a paper filter. Near-boiling water is poured over medium-coarse ground coffee and passes through the paper filter. Different thicknesses of filter paper removes the coffee oils.
Pour-over brewed coffee produces a cleaner taste with less bitterness.
French press

?

The French press method uses a plunger with a fine mesh metal filter. Medium-coarse ground coffee is steeped in near-boiling water for several minutes. The plunger is pressed down to filter out fine particles when poured.
French press brewed coffee produces a strong and bold flavour.
Syphon pot

?

The syphon pot method uses a two-chambered glass device, vapor pressure to brew as well as a metal filter. Medium-coarse coffee is used.
Syphon pot brewed coffee produces full-bodied and heavier flavours.
Amenities
Buy specialty coffee in-store
Outdoor seating
Address
Via Marmorata, 13,
00153 Rome (RM),
Lazio, Italy
Tram Depot (Testaccio)

in Rome

Specialty Coffee Italy map is loading..
Want more cafes and roasters?