Tazze Pazze Caffetteria Gourmet, opened in 2018, is the second specialty coffee cafe from the brothers Andrea Cremone and Matteo Caruso. This intimate cafe-mignon measuring just 18m² is located in the centre of old Genoa. There's plenty more space to drink your specialty coffee outside in the atmospheric Piazza Cinque Lampadi, for an alfresco taste of this important, old port city.
Beyond their in-house roasted specialty coffees, you can also treat yourself to their handmade pastries, biscuits, cakes, sandwiches and other gourmet goodies. If you find yourself passing the northern suburbs of Genoa, you can stop by the first Bar Tazze Pazze in the suburb of Rivarolo.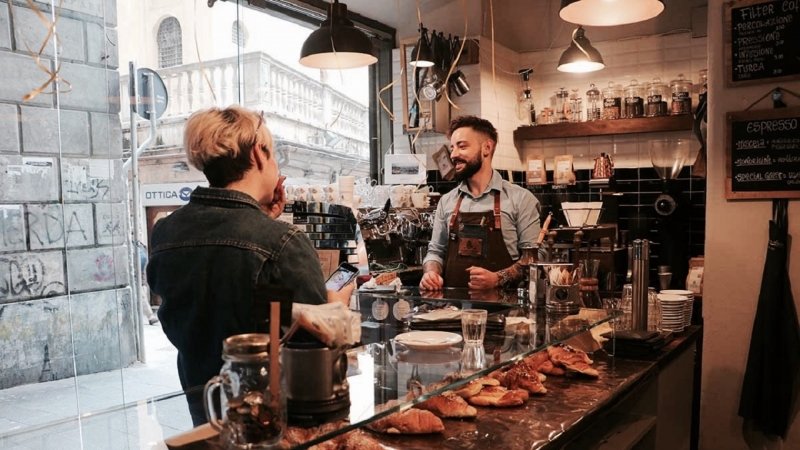 In-store brew methods
Espresso

?

The iconic Italian espresso method uses a machine to force near-boiling water at high pressure through finely ground coffee and a portafilter.
Espresso brewed coffee produces concentrated, rich flavours with crema on top.
Pour-over

?

The pour-over method uses a cone-shaped dripper with a paper filter. Near-boiling water is poured over medium-coarse ground coffee and passes through the paper filter. Different thicknesses of filter paper removes the coffee oils.
Pour-over brewed coffee produces a cleaner taste with less bitterness.
French press

?

The French press method uses a plunger with a fine mesh metal filter. Medium-coarse ground coffee is steeped in near-boiling water for several minutes. The plunger is pressed down to filter out fine particles when poured.
French press brewed coffee produces a strong and bold flavour.
Turkish coffee

?

Turkish coffee uses extremely fine-ground coffee heated with water in a vessel called a ibrik or cezve. The coffee is boiled several times before being served without filtering.
Turkish coffee produces a very thick, bold flavour with coffee sediment in the cup.
Amenities
Buy specialty coffee in-store
Buy coffee equipment in-store
Outdoor seating
Indoor seating
Address
Piazza Cinque Lampadi, 71R,
16123 Genoa (GE),
Liguria, Italy
Tazze Pazze Caffetteria Gourmet in Genoa
Want more cafes and roasters?