Nowhere Coffee & Community is a specialty coffee cafe just a few minutes walk from the Basilica of Sant'Ambrogio near the centre of Milan. This self-styled "Future coffee shop" is a unique alternative cafe which not only sells specialty coffee but also vinyl, books, magazines and a selection of craft beer, sweets and savoury dishes.
Nowhere Coffee & Community has a special flare, with a pink interior and art on the walls, a style that was inspired by owner Andrea Prayer's time spent in Melbourne, Australia during his studies abroad. He stocks both Italian and international specialty coffee beans, prepared in a number different brew methods.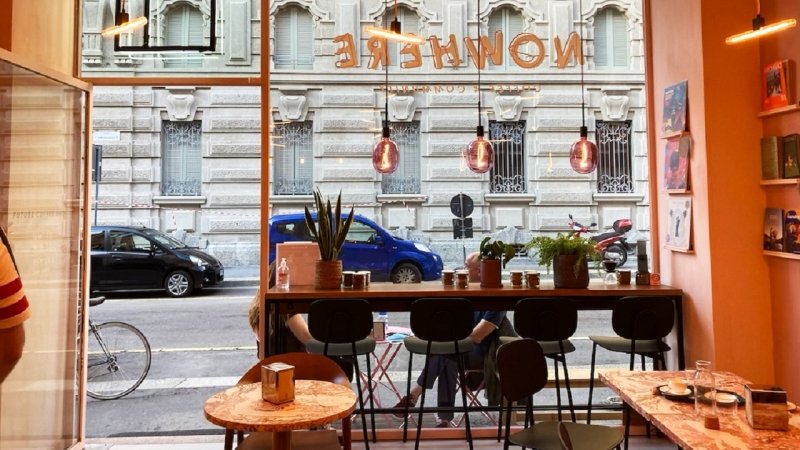 In-store brew methods
Espresso

?

The iconic Italian espresso method uses a machine to force near-boiling water at high pressure through finely ground coffee and a portafilter.
Espresso brewed coffee produces concentrated, rich flavours with crema on top.
Pour-over

?

The pour-over method uses a cone-shaped dripper with a paper filter. Near-boiling water is poured over medium-coarse ground coffee and passes through the paper filter. Different thicknesses of filter paper removes the coffee oils.
Pour-over brewed coffee produces a cleaner taste with less bitterness.
AeroPress

?

The AeroPress device functions like a syringe. Medium-coarse ground coffee is steeped in near-boiling water for a short period before the water is manually plunged through the coffee grounds and a thin paper filter.
AeroPress brewed coffee produces a smooth and clean flavour.
Cold brew

?

The cold brew method involves steeping coarse-ground coffee in cool water for 12-hours or more. The brewed coffee is filtered and water is added before serving.
Cold brewed coffee produces a flavour with less bitterness and acidity.
Amenities
Outdoor seating
Indoor seating
Address
Via Caminadella, 15,
20123 Milan (MI),
Lombardy, Italy
Nowhere Coffee & Community in Milan
Want more cafes and roasters?