Orsonero Coffee is a specialty coffee cafe in Milan opened by Brent Jopson, a Vancouver import to the fashionable city. With a balance of modern and traditional, Orsonero Coffee has a minimalist, light, wooden interior design which Brent took inspiration from during his time abroad.
It respects the Italian tradition of standing at the cafe counter to drink a quick espresso while also serving other brew methods, encouraging you to sit inside or out and slowly enjoy your coffee.
Orsonero Coffee is located 15-minutes walk south-east of Milano Centrale, Milan's main train station.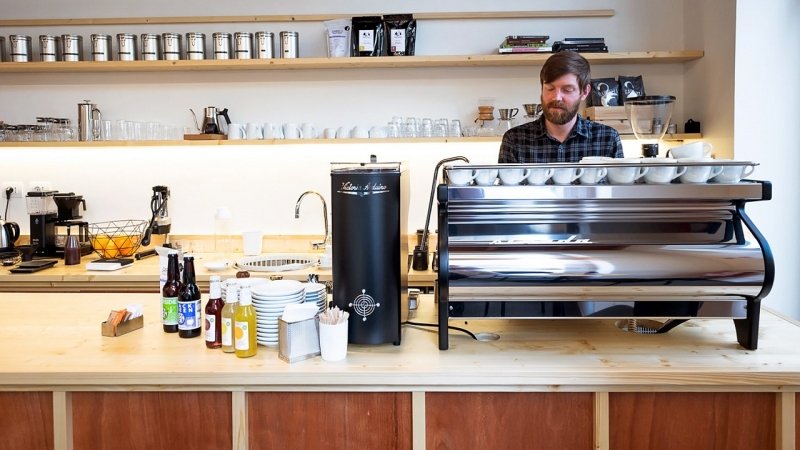 In-store brew methods
Espresso

?

The iconic Italian espresso method uses a machine to force near-boiling water at high pressure through finely ground coffee and a portafilter.
Espresso brewed coffee produces concentrated, rich flavours with crema on top.
Pour-over

?

The pour-over method uses a cone-shaped dripper with a paper filter. Near-boiling water is poured over medium-coarse ground coffee and passes through the paper filter. Different thicknesses of filter paper removes the coffee oils.
Pour-over brewed coffee produces a cleaner taste with less bitterness.
AeroPress

?

The AeroPress device functions like a syringe. Medium-coarse ground coffee is steeped in near-boiling water for a short period before the water is manually plunged through the coffee grounds and a thin paper filter.
AeroPress brewed coffee produces a smooth and clean flavour.
Amenities
Buy specialty coffee in-store
Indoor seating
Address
Via Giuseppe Broggi, 15,
20129 Milan (MI),
Lombardy, Italy
Orsonero Coffee in Milan
Want more cafes and roasters?