Orso Laboratorio Caffè is an experimental specialty coffee cafe in a quiet corner of the San Salvario quarter in Turin. As they describe the experience, their locale is not a cafe but a "coffee lab" where each coffee order is seen as a journey and includes a concise lesson in quality coffee to make sure each client is informed of what they're drinking.
The team behind Orso worked closely with local restorers and decorators to bring their "bear's den" to life in a retro style. They offer coffee blends and single origin specialty coffee, extracted in a wide variety of methods in-store with their preferred styles being syphon and AeroPress. Orso Laboratorio Caffè collaborates with the Turin roastery Giuliano Caffè for their beans.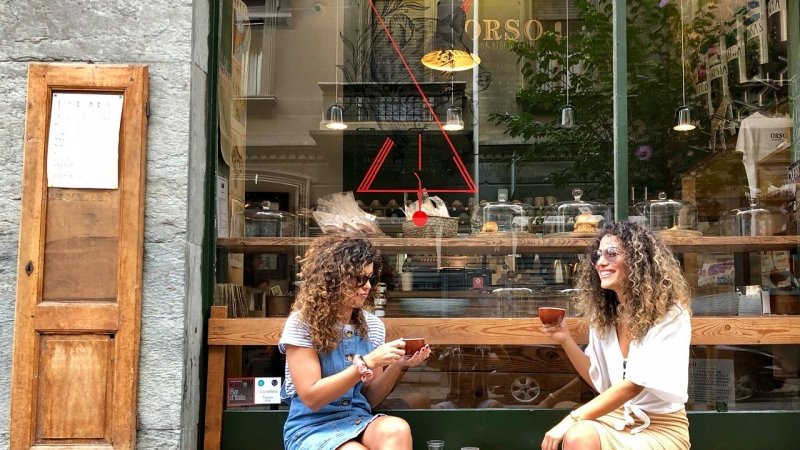 In-store brew methods
Espresso

?

The iconic Italian espresso method uses a machine to force near-boiling water at high pressure through finely ground coffee and a portafilter.
Espresso brewed coffee produces concentrated, rich flavours with crema on top.
Pour-over

?

The pour-over method uses a cone-shaped dripper with a paper filter. Near-boiling water is poured over medium-coarse ground coffee and passes through the paper filter. Different thicknesses of filter paper removes the coffee oils.
Pour-over brewed coffee produces a cleaner taste with less bitterness.
AeroPress

?

The AeroPress device functions like a syringe. Medium-coarse ground coffee is steeped in near-boiling water for a short period before the water is manually plunged through the coffee grounds and a thin paper filter.
AeroPress brewed coffee produces a smooth and clean flavour.
French press

?

The French press method uses a plunger with a fine mesh metal filter. Medium-coarse ground coffee is steeped in near-boiling water for several minutes. The plunger is pressed down to filter out fine particles when poured.
French press brewed coffee produces a strong and bold flavour.
Syphon pot

?

The syphon pot method uses a two-chambered glass device, vapor pressure to brew as well as a metal filter. Medium-coarse coffee is used.
Syphon pot brewed coffee produces full-bodied and heavier flavours.
Amenities
Buy specialty coffee in-store
Outdoor seating
Indoor seating
Address
Via Claudio Luigi Berthollet, 30/G,
10125 Turin (TO),
Piedmont, Italy
Orso Laboratorio Caffè in Turin
Want more cafes and roasters?