SimBIOsi Organic Cafè is a unique and atmospheric specialty coffee cafe and wine bar in the heart of old Florence. Inside you will see the building's original medieval walls, which they have tastefully decorated with contemporary art while adding vintage chairs and tables to furnish the interior.
Translating to "SymBIOsis'' in English with emphasis on the BIO, here you will find nothing but quality organic and natural products, ranging from their specialty coffees to their organic food and wines. They carefully pull all of their espressos with a hand-lever machine on the counter top, or if you prefer a slower coffee they've got a wide range of other brew methods as well.
Their breakfasts are international with granola, avocado toast and porridge being served, while their lunches are revisited Tuscan classics for a lighter meal. Drop in during the evenings for the aperitivo with food prepared in their neighbouring restaurante, such as freshly baked slices of pizza which you can enjoy with a glass of one of their natural Tuscan wines or a coffee-based cocktails like a spritz with coffee liqueur, gin & tonic with cold brew or a whiskey sour shakerato with espresso.
Pull up a stool at the counter and chat to the barista, relax at a table in a vintage chair or take your specialty coffee and sit outside to breathe in the atmosphere of the Florentine street life.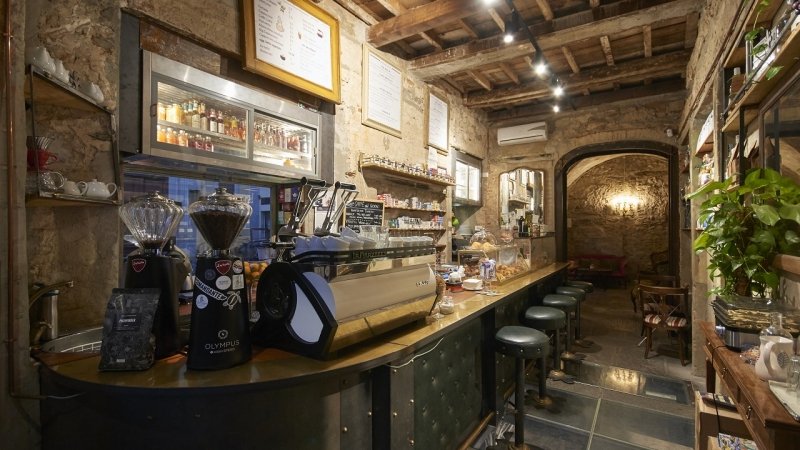 In-store brew methods
Espresso

?

The iconic Italian espresso method uses a machine to force near-boiling water at high pressure through finely ground coffee and a portafilter.
Espresso brewed coffee produces concentrated, rich flavours with crema on top.
Pour-over

?

The pour-over method uses a cone-shaped dripper with a paper filter. Near-boiling water is poured over medium-coarse ground coffee and passes through the paper filter. Different thicknesses of filter paper removes the coffee oils.
Pour-over brewed coffee produces a cleaner taste with less bitterness.
AeroPress

?

The AeroPress device functions like a syringe. Medium-coarse ground coffee is steeped in near-boiling water for a short period before the water is manually plunged through the coffee grounds and a thin paper filter.
AeroPress brewed coffee produces a smooth and clean flavour.
Cold brew

?

The cold brew method involves steeping coarse-ground coffee in cool water for 12-hours or more. The brewed coffee is filtered and water is added before serving.
Cold brewed coffee produces a flavour with less bitterness and acidity.
Amenities
Outdoor seating
Indoor seating
Address
Via de' Ginori, 64R,
50123 Florence (FI),
Tuscany, Italy
SimBIOsi Organic Cafè in Florence
Want more cafes and roasters?