Vecchio Caffè is a specialty coffee cafe in the old coastal town of Giovinazzo, just north of Bari. They stock a wide selection of high quality Italian specialty coffees and always have an international coffee available as well.
Mimmo Fiorentino began the activity in 1999 as a cafe and an artisanal ice cream shop, where he was the ice cream maker and also had the role of the classic Italian barista. After meeting a trainer, the world of coffee opened up to Mimmo and he dedicated years of study to brewing and sensory skill courses in specialty coffee, to the point where he's a competitive coffee brewer on a national level. As well as their own quality ice cream, you will also find a selection of homemade gourmet pastries and cakes, including vegan and gluten-free options, as well as specialty teas.
Vecchio Caffè is located on the main town square Piazza Vittorio Emanuele in the heart of the old medieval town.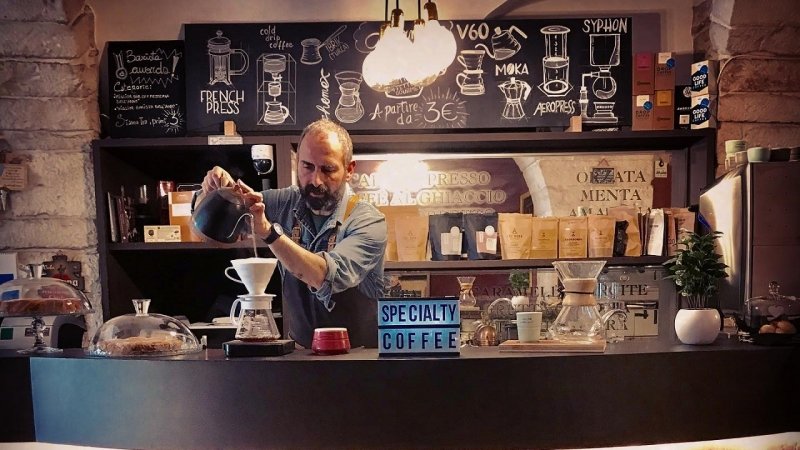 In-store brew methods
Espresso

?

The iconic Italian espresso method uses a machine to force near-boiling water at high pressure through finely ground coffee and a portafilter.
Espresso brewed coffee produces concentrated, rich flavours with crema on top.
Pour-over

?

The pour-over method uses a cone-shaped dripper with a paper filter. Near-boiling water is poured over medium-coarse ground coffee and passes through the paper filter. Different thicknesses of filter paper removes the coffee oils.
Pour-over brewed coffee produces a cleaner taste with less bitterness.
AeroPress

?

The AeroPress device functions like a syringe. Medium-coarse ground coffee is steeped in near-boiling water for a short period before the water is manually plunged through the coffee grounds and a thin paper filter.
AeroPress brewed coffee produces a smooth and clean flavour.
Moka pot

?

Moka pot method uses stove-top heat to boil water in the lower chamber that is forced through relatively fine-ground coffee into the upper chamber ready for serving.
Moka pot brewed coffee produces a stronger flavour often with more bitterness.
Cold brew

?

The cold brew method involves steeping coarse-ground coffee in cool water for 12-hours or more. The brewed coffee is filtered and water is added before serving.
Cold brewed coffee produces a flavour with less bitterness and acidity.
French press

?

The French press method uses a plunger with a fine mesh metal filter. Medium-coarse ground coffee is steeped in near-boiling water for several minutes. The plunger is pressed down to filter out fine particles when poured.
French press brewed coffee produces a strong and bold flavour.
Syphon pot

?

The syphon pot method uses a two-chambered glass device, vapor pressure to brew as well as a metal filter. Medium-coarse coffee is used.
Syphon pot brewed coffee produces full-bodied and heavier flavours.
Amenities
Buy specialty coffee in-store
Outdoor seating
Indoor seating
Address
Piazza Vittorio Emanuele II, 38,
70054 Giovinazzo (BA),
Apulia, Italy
Vecchio Caffè in Giovinazzo (Bari)
Want more cafes and roasters?