Il Cafetero is a specialty coffee cafe located outside the hustle of central Milan in a lively residential area to the west. You'll meet mostly locals at Il Cafetero, where owner Federico Maggiulli has successfully convince the traditional Italian robusta drinkers to switch to specialty coffee.
After many years working in restaurants and bars in Italy and London, Federico had a chance meeting with Chiara Bergonzi from the LotZero specialty roastery in Milan, an encounter which open the world of specialty coffee and inspired him to eventually open his own specialty cafe.
Il Cafetero also offers a range of muffins, waffles, pastries and cakes as well as gourmet sandwiches and salads.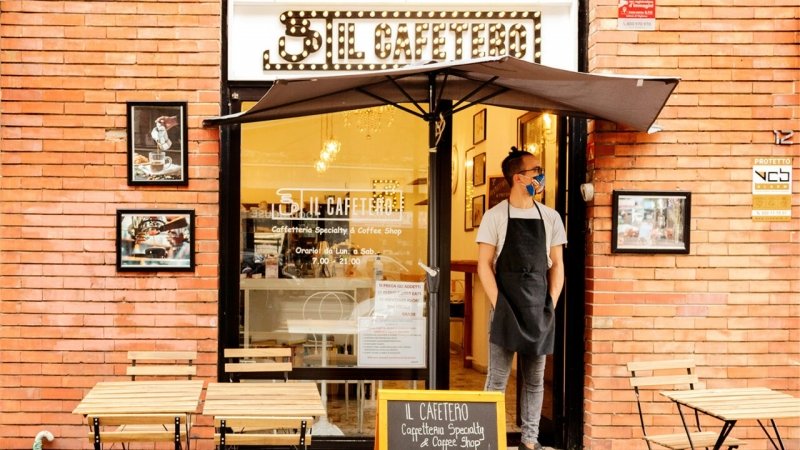 In-store brew methods
Espresso

?

The iconic Italian espresso method uses a machine to force near-boiling water at high pressure through finely ground coffee and a portafilter.
Espresso brewed coffee produces concentrated, rich flavours with crema on top.
Pour-over

?

The pour-over method uses a cone-shaped dripper with a paper filter. Near-boiling water is poured over medium-coarse ground coffee and passes through the paper filter. Different thicknesses of filter paper removes the coffee oils.
Pour-over brewed coffee produces a cleaner taste with less bitterness.
AeroPress

?

The AeroPress device functions like a syringe. Medium-coarse ground coffee is steeped in near-boiling water for a short period before the water is manually plunged through the coffee grounds and a thin paper filter.
AeroPress brewed coffee produces a smooth and clean flavour.
Cold brew

?

The cold brew method involves steeping coarse-ground coffee in cool water for 12-hours or more. The brewed coffee is filtered and water is added before serving.
Cold brewed coffee produces a flavour with less bitterness and acidity.
Amenities
Buy specialty coffee in-store
Outdoor seating
Indoor seating
Address
Via Rembrandt, 12,
20148 Milan (MI),
Lombardy, Italy
Il Cafetero in Milan
Want more cafes and roasters?