Cafezal is a specialty coffee micro roastery and cafe in the center of Milan. Meaning coffee plantation in Portuguese, it is "a roastery that also has a cafe", is the way the Italian-Brazilian founder Carlos Bitencourt describes it. This was his first cafe-roastery, the newer location being Cafezal Coffee Hub located east of the city center.
In the corner of Cafezal, behind the counter, you'll find the roasting machine for all to see. It holds a maximum capacity of only 2.5 kilograms of coffee beans per batch, keeping in the spirit of a small specialty micro-roastery.
Cafezal has a stylish post-modern urban interior design, with colours that move from a black marble, to dark blue and satin copper. A place to hang out, slowly sip your coffee and be seen in the fashionable Milan.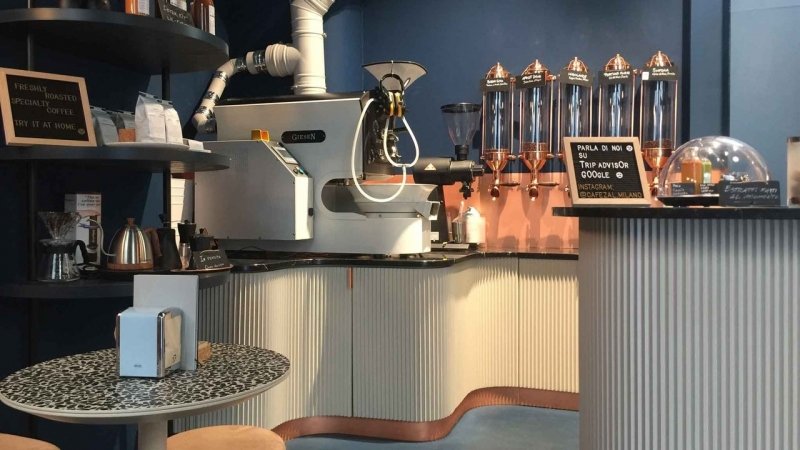 Roaster information
Coffee type: only sells specialty coffee
Business type: independent, owner-operated
Established: 2018
Selling specialty since: 2018
Roasting and origin information
Packaged coffee available: whole beans, ground
Roasting profile:
specific brew methods
?
A roasting profile for specific brew methods is when the roast is made specifically for espresso or for filter coffee. In general, a roasting profile for espresso is slightly darker than a roasting profile for filtered coffee.
A roasting profile for omni-roast is when a single roast is made for more than one brew method, such as for both espresso and filter coffee.
Cafezal primarily has roasting profiles for specific brew methods.
Tasting notes:
descriptive tasting notes
?
Tasting notes are a flavour guide provided by the roaster that describe the taste of the roasted coffee when brewed.
Some roasters provide descriptive tasting notes, many provide brief tasting notes such as a list of similar flavours whereas others do not provide any tasting notes.
Cafezal tends to provide descriptive tasting notes.
Coffee estate:
minimal or no information
?
Coffee estate information is a description of the location where the green coffee beans were cultivated and the families involved.
Some roasters include detailed information of the estate, many include brief information whereas other roasters include minimal or no information.
Cafezal tends to include minimal or no information about the coffee estate.
Cupping score:
always provided
?
A cupping score is a quality rating determined by assessing the characteristics of the coffee. Sensory attributes such as the coffee's aroma, flavour, sweetness, acidity, body, and more, are used to determine the score. A cupping score from 80 to 100 is considered specialty coffee.
A few roasters include the cupping score for all of their coffees, others include it for some of their coffees whereas many roasters do not include a cupping score.
Cafezal tends to include cupping scores for all of their coffees.
Address
Via Solferino, 27,
20121 Milan (MI),
Lombardy, Italy
Cafezal in Milan
Want more cafes and roasters?